Causes Low Platelets During Pregnancy
High levels of autoantibodies (antibodies that stick to platelets hence, causing their destruction) in the blood are what causes low platelets during pregnancy in the same way it affects other non-pregnant sufferers (which include males – nonpregnant ones LOL).  These autoantibodies cause organs such as the spleen, to get very active in "eating up" platelets causing them to drop below normal levels.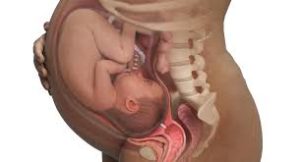 These autoantibodies can pass the placental barrier and go into the baby. And by this way "pass" the platelet disorder to the fetus.  Many complications can arise from this. Including, intracranial bleeding. But studies have indicated that the risk for intracranial bleeding may actually be lower than what was thought to be. The main treatment used in conventional therapy is the use of steroids. Mainly, prednisone.[1, 2] IVIG (Intravenous immunoglobulin) is also a treatment used to treat low platelets.[3]
What if the pregnant woman does not respond to treatment?
In this case, a decision must be taken to shorten the pregnancy and possibly perform a Cesarean section to protect the mom and the baby also.[3] Hopefully, the mother will be close to term.
How bad is it for the mother and baby? Can this cause death?
Yes and no. Theoretically yes, especially for the fetus (intracranial bleeding). But even though low platelet symptoms occur frequently in pregnancy, no mortality or death has occurred in the past 20 years (from 1997).The truth is, this condition is considered benign for both groups (mother and baby).  The management is very similar in pregnancy as in those who are not pregnant (as mentioned before). About even thought 10% of babies develop pronounced thrombocytopenia, only 1% of the 10% develop actual intracranial bleeding![4] In another study done in the UK, none of the newborns required treatment and 0% developed intracranial bleeding![5, 6]
What the BJOG says:
British Journal of Obstetrics and Gynecology (BJOG) says and I quote: "Whilst balancing the risks for pregnancy from prophylactic antenatal treatment in asymptomatic women against observed low disease morbidity, we may be over treating asymptomatic patients."[5, 6]
Usually, a splenectomy (taking out of the spleen) is not required[6] The most common complication in the pregnant mother would be severe postpartum hemorrhage, if she does not respond to IVIG and steroids.[5] And in those cases, a Cesarean section must be performed.[5]
One of the causes of low platelets
High levels of estrogen produced by the pregnant woman appear to be one of the causes of low platelets.
by Louis Cruz
Author of Conquer Low Platelets
Anselmi Angeli, R., et al., [Autoimmune thrombocytopenia and pregnancy]. Minerva Ginecol, 1996. 48(12): p. 557-63.
Blanchette, V.S., et al., Commentary on the management of autoimmune thrombocytopenia during pregnancy and in the neonatal period. Blut, 1989. 59(1): p. 121-3.
Bolten, K., et al., Severe Case of Autoimmune Thrombocytopenia First Diagnosed in Pregnancy. Geburtshilfe Frauenheilkd, 2013. 73(12): p. 1252-1255.
Bussel, J.B., Immune thrombocytopenia in pregnancy: autoimmune and alloimmune. J Reprod Immunol, 1997. 37(1): p. 35-61.
Care, A., et al., Severe primary autoimmune thrombocytopenia in pregnancy: a national cohort study. BJOG, 2017.
Davidson, B.N., et al., Immunoglobulin therapy for autoimmune thrombocytopenia purpura during pregnancy. A report of two cases. J Reprod Med, 1987. 32(2): p. 107-9.